Product Description
WNS series oil or gas firde steam boiler is the horizontal,3-pass,fire-tube boiler.
Fuel can be light oil,heavy oil,natural gas,etc.
Dimention and other parameters could be customized.
The steam boiler form TECHTOP in an output range from 1t/h to 20t/h are avilable for a wide range or options.
Performances :
1, maximum energy efficiency,;
2, Fully-automatic control and running
3, Three-pass and wet-back structure
4, Threaded tube: Strengthen the heat transfer, increase the boiler heat efficiency
Features:
1. Adopting tried and tested three-pass and wet-back structure, more safe and reliable
2. Big combustion room design: Increase furnace radiant heating area, decrease the boiler size, reduce the emission of the NOx
3. Corrugated hearth make the boiler more safe
4. Threaded tube: Strengthen the heat transfer, increase the boiler heat efficiency
5. Multi-level sealing for flue gas chamber: No flue gas leakage
6. Boiler controlling system can run for a long time under high temperature and high humidity condition
7. Multi-level protections like boiler pressure, hot water temperature, gas pressure protection and so on.
8. High efficient thermal insulation material, low boiler surface temperature, the heat loss can be neglected
9. Produce according to the national standard, all pressurized components apply fine quality steel
10. Every boiler must be subject to strict inspection and testing before delivery, including hydraulic test and X-ray inspection
11. Selecting the most suitable burner to match the boiler so as to guarantee safety and reach rated output
12. All components, such as pumps, valves are limited to choose international or national renowned- brands.
13. Introducing manhole and hand hole: Maintenance is convenient customer-tailored design is available.
14. An economizer is optional and possible to save 15% fuel, decrease noise 20dB.
Boiler controlling and safety systems
1. The controlling and safety systems are interlocked in an electric control cabinet (ECC).
2. The burning and security operation are controlled by ECC. It has the following basic functions:
Protection program of automatic ignition
Locking and protection program of operationProtection program of extinction
Protection program of completion
Protection program of water pumps (pressure loss)
Protection program of ignition failure
Protection program of combustion engine malfunction
Protection program of combustion engine flameout
Protection program of gas leakage
3. Alarm systemSound-light alarm of steam pressure and super-high steam pressure
Sound-light alarm of high and low limit water level
Sound-light alarm of pressure loss in water pumps.
Boiler main equipments
Advantages of our production and service
1. 100%safety, running stably, excellent water level and pressure control, fully automatic operation
2.Boiler running life > 20years.
3. Service terms
Service before sale: Provide relative technical datas as customer's requirements. Design the drawings includingFoundation (floor plan), layout drawing, basic general drawing and quotation.
Service in sale: After the contract working, we will execute each item, keep ISO9001: 2008 standard in everyManufacturing process. Keep in touch with customer and make sure that craft, quality andTechnology could meet the requirements.
After-sale service:It is free for you to get the damaged spares in warranty period(1 year) if there is any questions. Assure that we can supply you spares in boiler's all life.
4.We can arrange engineer to your company for installation and commissioning and training. If you need us at any time, we can send our technicians and prepare in a short time.
5.Special paint is used after assembly. Paint is particularly used in your climate area, which is anti-corrosion, anti-abrasion and color-fastness.
Factory assurance:
1). One year parts warranty
2). Spare parts available at ex-factory price
3). Different voltage available
4). 100% tested before delivery
5). Engineer on-site instruction of installation and commissioning available.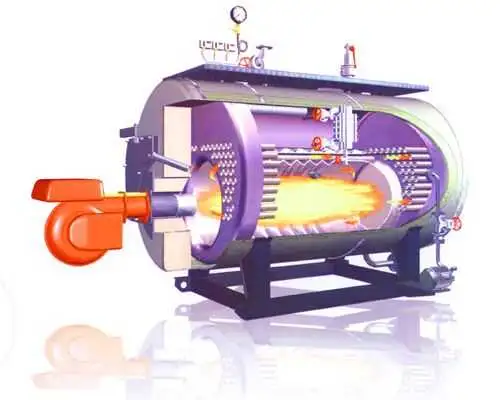 type
WNS1-1.0-Y (Q)
WNS2-1.25-Y (Q)
WNS3-1.25-Y (Q)
WNS4-1.25-Y (Q)
WNS5-1.25
WNS6-1.25
WNS8-1.25
WNS10-1.25
WNS15-1.6
(t/h) evaporation
1
2
3
4
5
6
8
10
15
(Mpa) Working pressure
1
1.25
1.25
1.25
1.25
1.25
1.25
1.25
1.6
(C) the steam humidity
184
194
194
194
194
194
194
194
204
(%) Efficiency
91.5
90.3
90.2
90.93
88.25
88.2
88.9
88.7
92 ( )
Fuels suitable
\\\ Light oil,Heavy oil,Natural gas,Liquefied gas
(kg/h) the boiler full load Light oil consumption
70.85
141.5
211.6
285.17
352.15
422
563.45
705.16
1006
(Nm³/h) the boiler full load Natural gas consumption
83
162
245
328.8
406
486.7
649
811
1161
(kJ/h) the boiler full load Heavy oil consumption
75.8
151.3
227
304.8
372.3
448
595.6
745.2
1061
Large transport size
3.28×1.70×2.12
4.27×1.85×2.47
4.74×2.04×2.64
5.12×2.27×2.88
5.66×2.63×3.17
6.3×2.54×3.17
6.94×2.70×3.32
7.0×2.76×3.48
7.0×2.87×3.60
Max transport weight
4.3
7.25
10.2
11.4
15.6
17.8
21.2
26.4
35
Applicable altitude
1000
LD. Of main steam
DN65
DN80
DN80
DN100
DN100
DN125
DN125
DN150
DN200
LD. Of safety valve
DN40
DN40
DN40
DN50
DN80
DN80
DN80
DN80
DN100
LD. Of blow down pipe
DN40
DN40
DN40
DN40
DN50
DN50
DN50
DN50
DN50
LD. Of feed water
DN40
DN40
DN40
DN40
DN50
DN50
DN50
DN50
DN65
LD. Of Liquid level meter
DN65
DN15
DN15
DN15
DN15
DN20
DN20
DN20
DN20