Green solution wood chips wood pellets biomass gasifier burner price for boiler to replace oil,gas, coal,wood fired project
The basic principle of biomass gasification system is to convert Agriculture and forestry products and wood processing remains (including rick husks, wood powder, branches, offcuts, corn straws, rice straws, wheat straws, cotton straws, fruit shells, coconut shells, palm shells, bagasse, corncobs,Palm shell, Palm fibre, Napier Grass,Bamboo waste, sawdust, chicken manure and etc.) into combustible gas . It is then used as fuel in gas engine to generate electricity. Biomass gasification successfully conquers the disadvantages of biomass, such as low flammability and wide diversity. Biomass gasification system is characteristic of small land requirement and environment friendly. It's one of the most effective way of biomass utilization.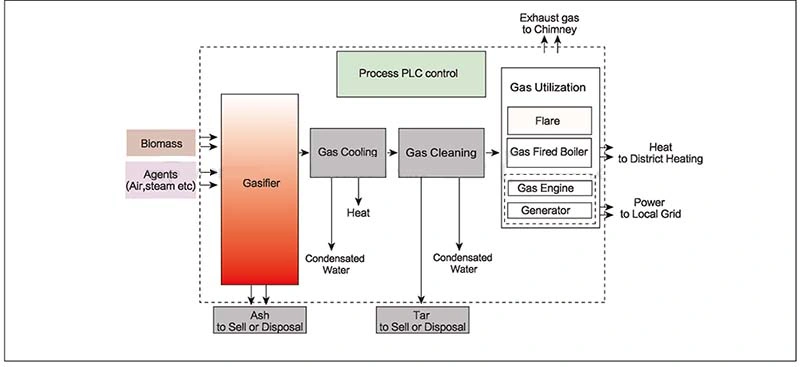 Technical Specification of Gasification Power Generation System
Model

50GF

100GF

200GF

300GF

400GF

500GF

600GF

800GF

1000GF

Rated Power(KW)

50

100

200

300

400

500

600

800

1000

Rated Frequency

50/60HZ

Rated Voltage(V)

220/400/440/6300/6600/11000/13800

Model of Gasifier

LHC50

LHC100

LHC200

LHC300

LHC400

LHC500

LHC600

LHC800

LHC1000

Gasifier Type

Fluid Bed Gasifier /Fixed Bed Gasifier

Biomass Moisture




Requirement

≤20%(Wet Basis)

Biomass Size




equirement

Diameter 20mm-80mm; Length 10mm-80mm

Biomass




Consumption(Kg/Hr)

50-100

100-200

200-400

300-600

400-800

500-1000

600-1200

800-1600

1000-2000

Gas Production(Nm³/h)

125-150

250-300

500-600

750-900

1000-1200

1250-1500

1500-1800

2000-2400

2500-3000

Ash Discharge Type

Dry Ash Type/Wet Ash Type

Type of Gas Purification

Dry Type Gas Purification System/Wet Type Gas Purification System

Heat Value of Gas

≥1000Kcal/Nm³

Gas Composition

CO 15-20% CO2 8-12% CH4 Up to 3% H2 15-20% N2 45-50%

Model of Genset

50GF

100GF

200GF

300GF

400GF

500GF

600GF

400GF

500GF

Qty of Genset

1 Set

1 Set

1 Set

1 Set

1 Set

1 Set

1 Set

2 Sets

2 Sets
Comparing with other renewable power generating system, Zichai gasification systerm's characteristic :

1). Flexibility. Gas engine, alternator and even waste heat recovery boiler may be used considering various power plant capacity requirements. It ensures high power generating efficiency. Different capacities of biomass power generation plant can be designed with various types of gasification system.
2). Clean technology. Biomass, as one kind of renewable energy, may reduce the emission of carbon dioxide, sulfur dioxide causing from fossil fuel. Nitrogen oxides emission is very limited in our biomass gasification power generating system because of low temperature (700°C~1200°C).
3). Economic. Gasification is capacity flexible. Even small size biomass power plant is also profitable. Simple process and less land requirements make biomass gasification power plant more economic comparing with other renewable energy. Generally speaking, biomass gasification power generating is the most economic technology in renewable power generating plant, the cost of which is nearly the same as small-size conventional power plant.

ABOUT CHP
Combined heat and power(CHP) also known as cogeneration, is an efficient,clean,and reliable approach to generate power and thermal energy from a single fuel source. By installing a CHP system designed to meet the thermal and electrical base loads of a facility, CHP can greatly increase the facility's operational efficiency and decrease energy costs. At the same time, CHP reduces the emmission of greenhouse gases,which contribute to global climate change.
The biomass gasification power plant is a biomass system that utilizes the biomass as its energy sources. We have included this section about CHP generally to give yoy a better understanding of this increasing interest and technlogy evolving aound this alternate energy option.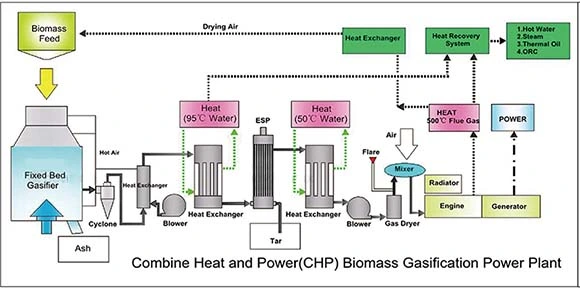 Syngas-biomass generations are driven by low speed 300 series engines, the gas fuel can be generated from gasification of MSW, woodchips, sawdusts, rice husks, straws, coconut shells, coal gas, coking gas, coke oven gas and pyrolysis gas etc. Low Speed 300 engines are specially designed for syngas as fuel, with remarkable features of low speed, big cylinder, big displacement, naturally aspirated and strong resistance ability against the TAR, highly reliable, durable,
the overhaul can reachover 60000 hours.
Customer Benefits for Syngas-Biomass Engines
• Cylinders Structure in Line & Upright & Concise Layout, which means simple, easy and low cost in operation & maintenance. Engine-Overhaul can be handled at user's site.
• Large cylinder (300mm), long stroke, low speed and big displacement 215L and 242L, which means big reserve power capacity and constant power output.
• Low engine speed at 500 or 600rpm, which means high reliability for continuous operation, sufficient combustion, low exhaust gas temperature and high heat efficiency.
• Naturally aspirated (no turbocharger and Intercooler), which means low failure rate and minimum downtime (TAR in syngas always block and damage turbocharger and intercooler).
• Internal mixing system (for high hydrogen gas over 15%), gas and air intake separately, then mixed in combustion room, which means no risk of backfire and cylinder knocking.
• Strong treatment and resistance ability against TAR, long term trouble free operation. TAR always raises problems of
pipeline-blocking, cylinder-pollution and spark plug-jamming etc.
• Compressed Air Starting System, smooth starting, high success rate and easy for maintenance.
• Open Cooling System, adopting plate-type heat exchanger, high efficiency and easy for scale-removal.
• Dismountable intake-valve-box, which means can clean TAR easily and conveniently (no need disassembling of cylinder head).
• Low-speed engine makes the noise lower. The maximum noise ≤100dB. Through silencer, the noise will be ≤70dB.
•
Low speed means low components wearing, namely lower cost in spare parts replacement and long life span.
• Long Overhaul Time of 60,000 hours and lifecycle of 20-25 years, which ensure sustainable financial rewards of power plant.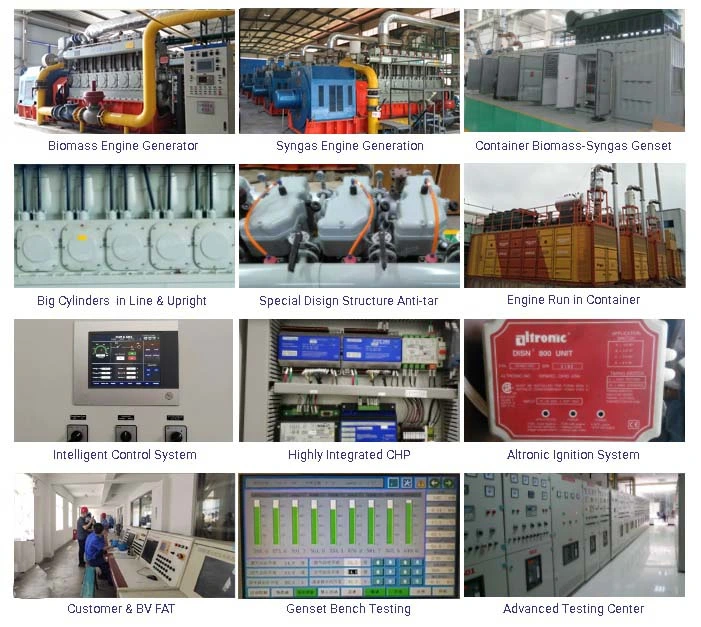 • Biomass from MSW, Woodchips, Sawdust, Straw, Rice husks, Nut-shells, and Chicken manure etc.
•
Industrial tail gas & refinery gas, such as coal gas, coking gas, semi-coke gas, coke oven gas, oilshell tail gas, carbide tail gas, ferrochromium tail gas, yellow phosphorus tail gas, producer gas and paralysis gas etc.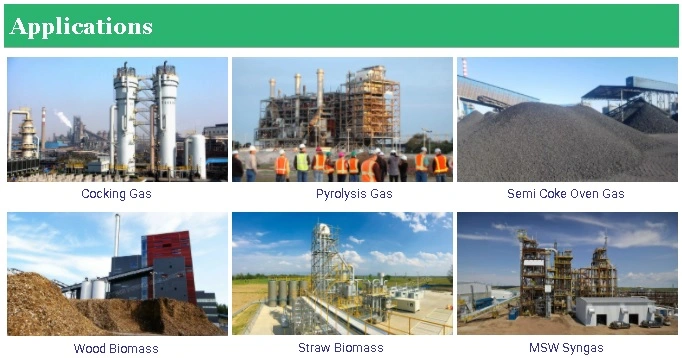 Requirements for Syngas-Biomass Quality
Before entering into engine, the syngas should be treated with dust-removal, tar-removal, desulfurization, dewatering and cooling process, to meet up following requirements:
•
Gas pressure 2.5~10kpa (3~5kpa is better), pressure change rate≤1kPa/min;
•
Moisture Content ≤40 g/Nm3 (without free water);
•
Impurity content≤30mg/Nm3, Impurities particle size≤5μm;
• Tar content≤50mg/Nm3, H2S content≤50mg/Nm3, Total Sulfur content ≤100mg/Nm3;
•
Ammonia content≤20mg/Nm3, Chlorine content ≤50mg/Nm3
• Hydrogen volume content≤50%, Oxygen volume content≤1%;
•
The capacity of syngas pressure-buffering tank should match well with the generator's gas consumption.
Why Zichai Gas Generator Set?
1. Development and manufacturing internal combustion engine since 1970
2. Factory area over 330000m2 & over 2200 employees
3. Highly versatile power generator with ability to handle more than 20 different gases
4. More than 200 employees dedicated to developing and improving power generator for various gas.
5. More than 1000 systems installed in over 20 countries using a variety of gases.
6. More than 50 people in the Customer Service Department making the Organization very Customer Responsive.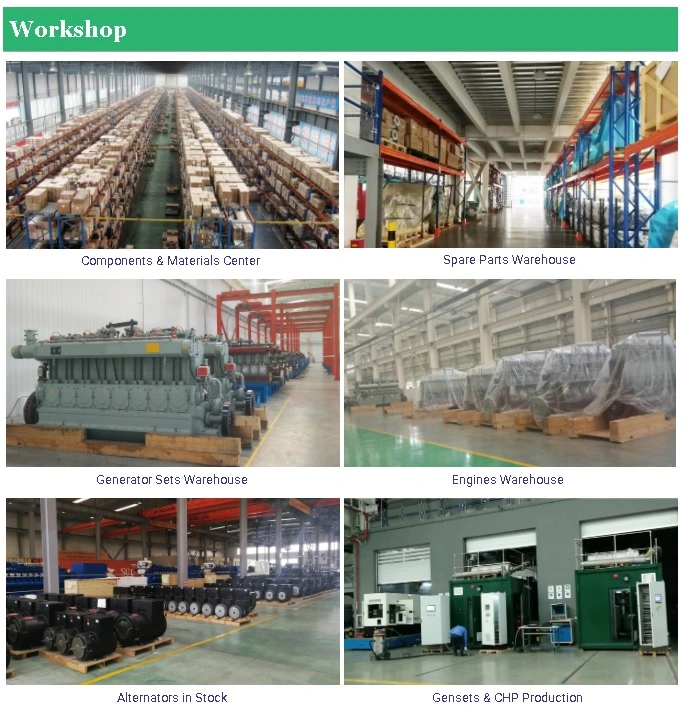 Project References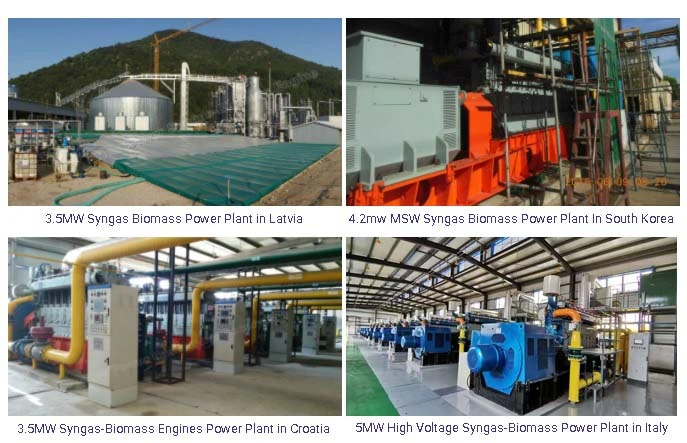 Our customers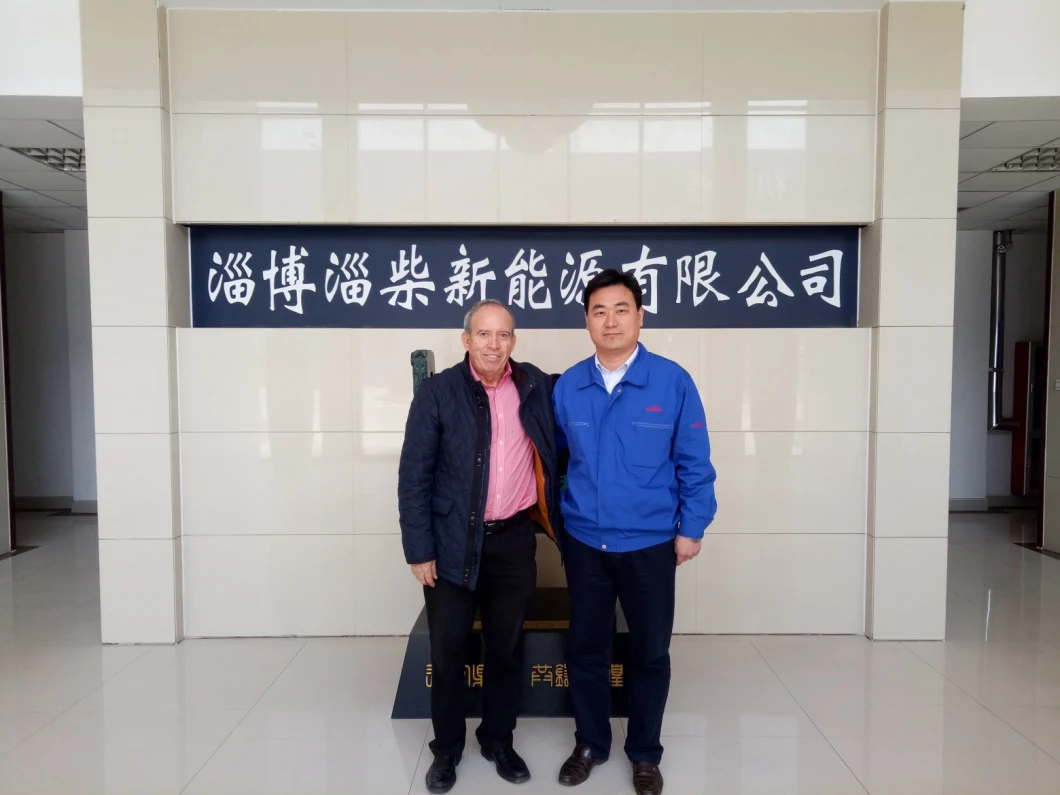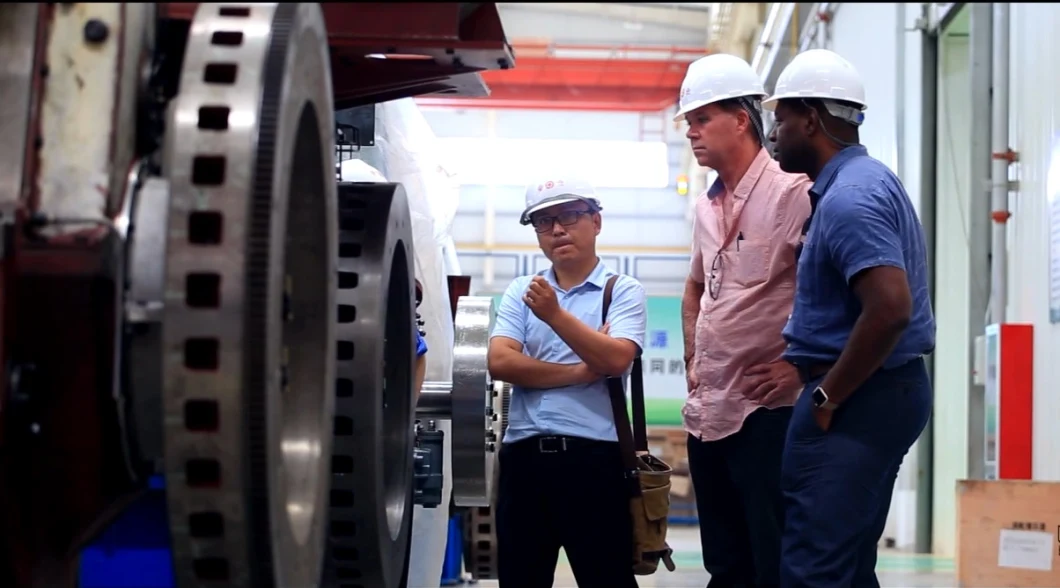 FAQ
1.Are you a trading company or manufacture

?
Manufacture with factory.
2.What kinds of gas generator set do you produce?
It covers for all kinds of gas produced in agriculture and industry, including biomass gas, biogas, natural gas, coal mine gas, coke oven gas, semi-coke gas and syngas, as well as related gas produce equipment.
3.What is your delivery time?
Normally within 60days, it depends on the configuration and quantity, please confirm with us before order.
4.What is your payment terms?
T/T or
L/C.
5.How do you pack products?
Standard export packaging. Equipment packing with plastic bag, and with new solid wooden box, suitable for long-distance sea transportation, moisture-proof, earthquake, rust-proof and anti-brutal handling.
6.What is your available port of shipment?
Normally Qingdao port, other ports available according to customers' requirement.