1.
Boiler Description
WNS boilers are gas/oil fired, horizontal, 3-pass, fire-tube, wet-back boiler solutions, which come with an integral burner. Unique corrugated furnace and corrugated fire-tubes are designed to supply much more heat transfer surface. The shell is insulated with mineral wool and packed by 0.5mm stainless steel sheet. It's a boiler package designed for long life, highest fuel to heat efficiency, maximum safety, lowest emissions, quiet operation, ease of maintenance. With ever rising mechanical room construction costs, it's critical that our design team creates a boiler package that conserves every inch of your valuable floor space.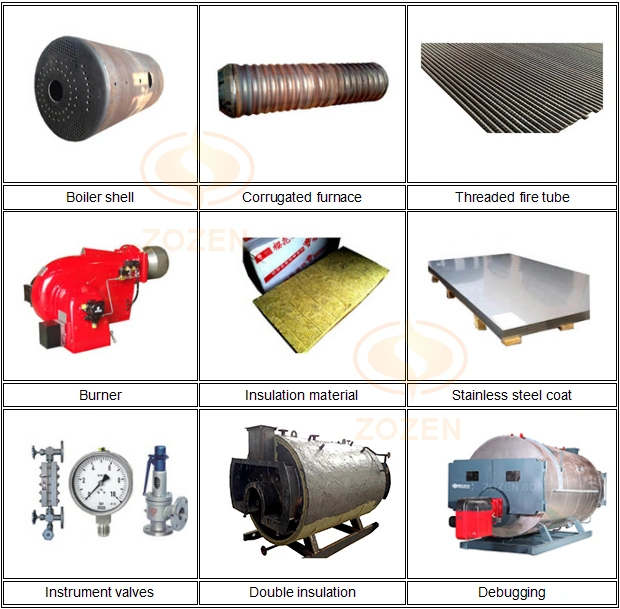 2.
Boiler Features
2.1 Long working life
- Design of 3-pass and wet-back prevents back tube sheet from the high temperature smoke.
- Steel plate and tube cutting, plate rolling and drum drilling are processed by our advanced CNC machining, which can decrease the assembly stress.
- The vertical and horizontal seam welding is done by our unionmelt welding machine and all seam welding is checked by 100% radiographic inspection
- The welding of tube and plate is done by pre-expanding treatment first to remove the gap between tube and plate and next by argon arc automatic welding process to relief the stress efficiently.
Definitely all treatments above can increase the working life.

2.2 Compact design and high efficiency,
Threaded fire tubes and corrugated furnace are used to increase the heating area. That allows over 30% energy to be absorbed in the furnace. So the heat efficiency is higher than normal design. And it can save cost of your boiler room construction.

2.3 Ease of maintenance
The front smoke chamber door is designed as a hinge structure. It is easy to open and close, and convenient to maintain, detect and clean.

2.4 New type condensing economizer(Optional)
This economizer is made of finned tubes. It enlarges the heating area but still with a small size and the heat efficiency is raised up to 98% at least. The finned tubes are made by ND tubes, which avoids steel low temperature corrosion. Normally this condensing economizer can save around 5% fuel.

2.5 Low emissions
Lowering emissions in the ZOZEN-WNS series of boiler involves two key factors:
- Advanced and reasonable burner solution;
- The proper sizing of furnace to minimize nitrogen oxides and other contaminants from forming during the combustion process.

2.6 Safety of fully automatic control system
We design the safety interlock system with multiple protection and alarm functions
- Protection program of automatic ignition
- Locking and protection program of operation
- Protection program of extinction
- Protection program of completion
- Protection program of water pumps (pressure loss)
- Protection program of ignition failure
- Protection program of combustion engine malfunction
- Protection program of combustion engine flameout
- Sound-light alarm of high pressure
- Sound-light alarm of high limit water level
- Sound-light alarm of low limit water level
- Sound-light alarm of super-high temperature of hot water
3.
Boiler Specification
No.
Item
Technical date

1

Model

WNS4-1.6-Y/Q

2

Rated steam capacity

4 t/h (4000 kg/h)

3

Fuel

Natural gas or oil

4

Fuel consumption

~288 m3/h

5

Rated steam pressure

1.6 MPa (16 bar)

6

Hydraulic test pressure

2.0 MPa (20 bar)

7

Rated steam temperature

204ºC

8

Feeding water temperature

20ºC

9

Design heat efficiency

>98%

10

Boiler heating area

112.59 m2

Economizer heating area

53.54 m2

11

Centrifugal water pump

JGGC4.8-8×22

12

Max.transportation size (L×W×H)

4700X2480X2850 (mm)

13

Max.transportation weight

13300 KG

14

Total power

13 KW
4.
Working Principle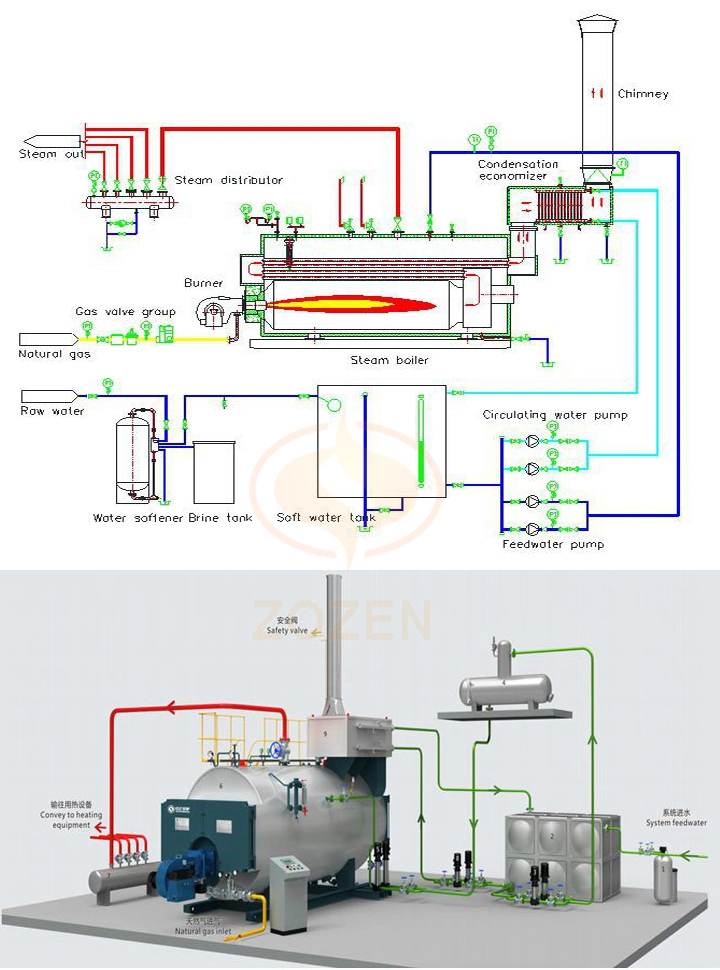 5.
Oversea Market
Nowadays, we have exported our boilers to the following countries: India, Indonesia, Pakistan, Malaysia, Thailand, Laos, Vietnam, Bengal, Philippines, Taiwan China, Papua New Guine, France, Finland, Turkey, Serbia, Lithuania, Bulgaria, Russia, Mongolia, Venezuela, Chile, Colombia, Mauritius, South Africa, Ethiopia, Algeria, Nigeria, Tanzania, Oman, UAE, etc.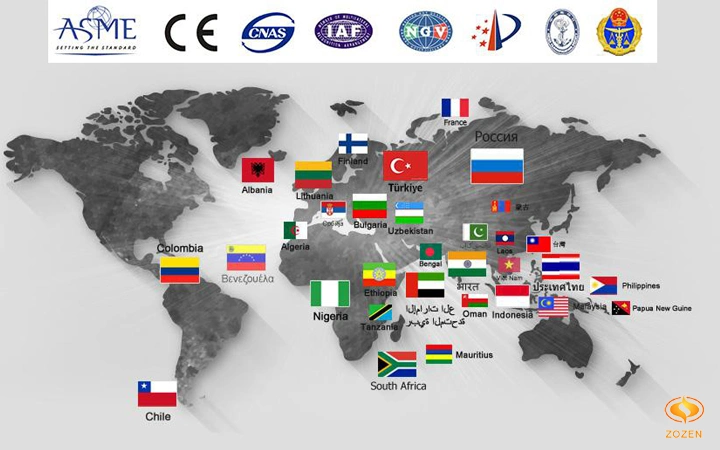 6.
Workshop View (For WNS boiler workshop)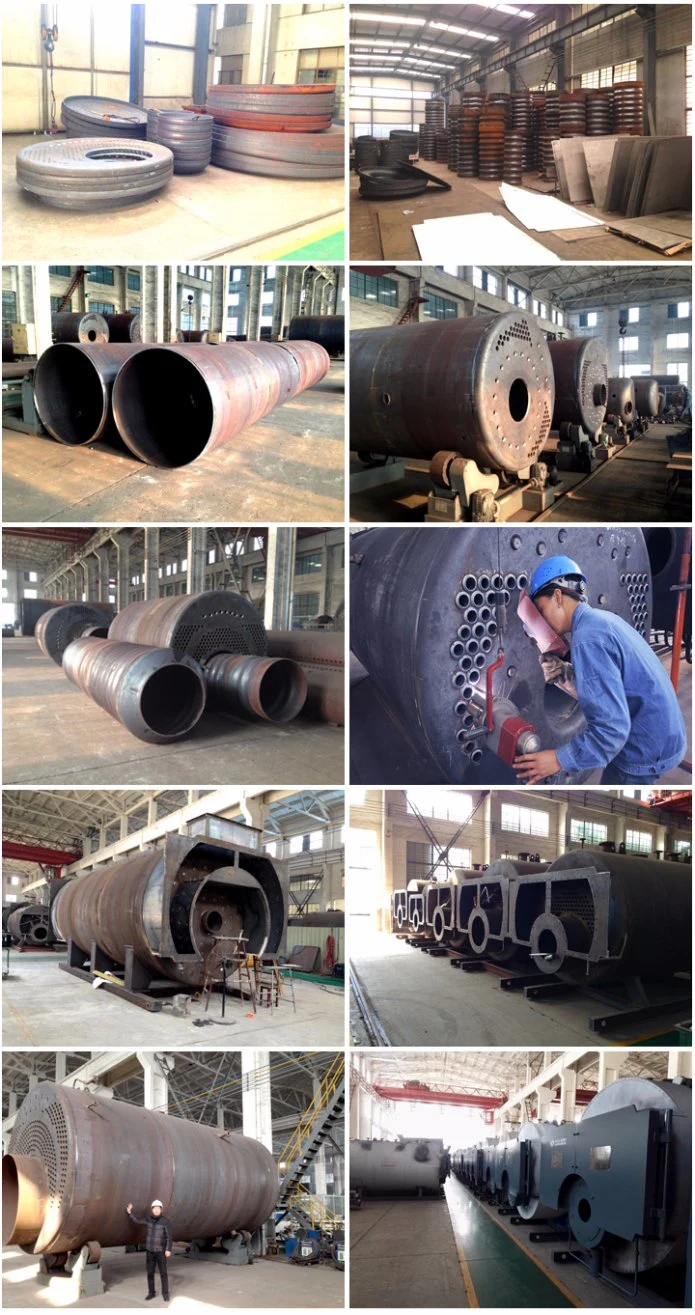 7.
Projects Display (For WNS Boilers)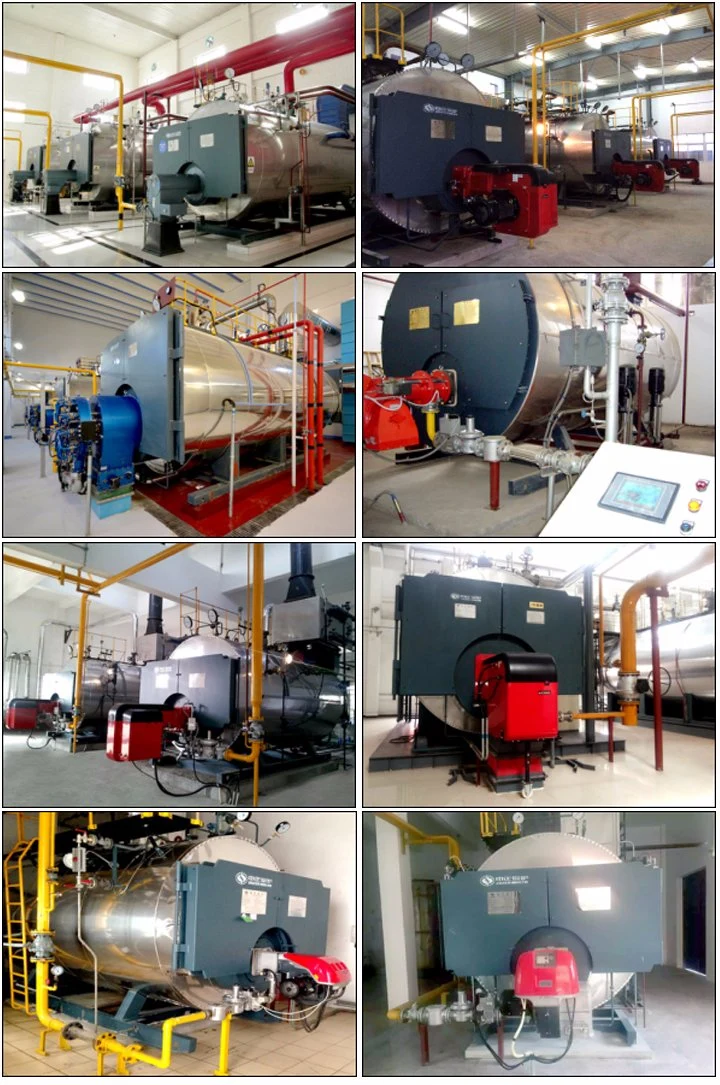 8.
Model Sheet
| | | | | | | |
| --- | --- | --- | --- | --- | --- | --- |
| Model | Steam Capacity | Steam Pressure | Steam Temperature | Shipping Weight | Shipping Dimension | Heat Efficiency |
| WNS1-0.7-Y/Q | 1 t/h | 0.7 Mpa | 170 ºC | 4.0 t | 3.6x2.0x2.0 (m) | >90% |
| WNS1-1.0-Y/Q | 1 t/h | 1.0 Mpa | 184 ºC | 4.0 t | 3.6x2.0x2.0 (m) | >90% |
| WNS1.5-1.0-Y/Q | 1.5 t/h | 1.0 Mpa | 184 ºC | 4.5 t | 3.8x2.0x2.0 (m) | >90% |
| WNS1.5-1.25-Y/Q | 1.5 t/h | 1.25 Mpa | 194 ºC | 4.5 t | 3.8x2.0x2.0 (m) | >90% |
| WNS2-1.0-Y/Q | 2 t/h | 1.0 Mpa | 184 ºC | 8.5 t | 4.86x2.5x2.46 (m) | >90.2% |
| WNS2-1.25-Y/Q | 2 t/h | 1.25 Mpa | 194 ºC | 8.5 t | 4.86x2.5x2.46 (m) | >90.2% |
| WNS3-1.0-Y/Q | 3 t/h | 1.0 Mpa | 184 ºC | 8.9 t | 5.3x2.5x2.5 (m) | >90.5% |
| WNS3-1.25-Y/Q | 3 t/h | 1.25 Mpa | 194 ºC | 8.9 t | 5.3x2.5x2.5 (m) | >90.5% |
| WNS4-1.6-Y/Q | 4 t/h | 1.25 Mpa | 194 ºC | 13.3 t | 5.84x2.85x2.8 (m) | >91.3% |
| WNS4-1.6-Y/Q | 4 t/h | 1.6 Mpa | 204 ºC | 13.3 t | 5.84x2.85x2.8 (m) | >91.3% |
| WNS5-125-Y/Q | 5 t/h | 1.25 Mpa | 194 ºC | 14.3 t | 6.3x2.9x2.8 (m) | >91.3% |
| WNS5-1.6-Y/Q | 5 t/h | 1.6 Mpa | 204 ºC | 14.3 t | 6.3x2.9x2.8 (m) | >91.3% |
| WNS6-1.25-Y/Q | 6 t/h | 1.25 Mpa | 194 ºC | 19.5 t | 7.25x3.1x3.15 (m) | >91.2% |
| WNS6-1.6-Y/Q | 6 t/h | 1.6 Mpa | 204 ºC | 19.5 t | 7.25x3.1x3.15 (m) | >91.2% |
| WNS8-1.25-Y/Q | 8 t/h | 1.25 Mpa | 194 ºC | 22.6 t | 7.45x3.26x3.2 (m) | >91.6% |
| WNS8-1.6-Y/Q | 8 t/h | 1.6 Mpa | 204 ºC | 22.6 t | 7.45x3.26x3.2 (m) | >91.6% |
| WNS10-1.25-Y/Q | 10 t/h | 1.25 Mpa | 194 ºC | 25.8 t | 8.73x3.26x3.2 (m) | >91.8% |
| WNS10-1.6-Y/Q | 10 t/h | 1.6 Mpa | 204 ºC | 25.8 t | 8.73x3.26x3.2 (m) | >91.8% |
| WNS15-1.25-Y/Q | 15 t/h | 1.25 Mpa | 194 ºC | 34.7 t | 8.73x3.74x3.51 (m) | >91.9% |
| WNS15-1.6-Y/Q | 15 t/h | 1.6 Mpa | 204 ºC | 34.7 t | 8.73x3.74x3.51 (m) | >91.9% |
| WNS20-1.25-Y/Q | 20 t/h | 1.25 Mpa | 194 ºC | 46 t | 10.2x3.6x4.02 (m) | >92% |
| WNS20-1.6-Y/Q | 20 t/h | 1.6 Mpa | 204 ºC | 46 t | 10.2x3.6x4.02 (m) | >92% |