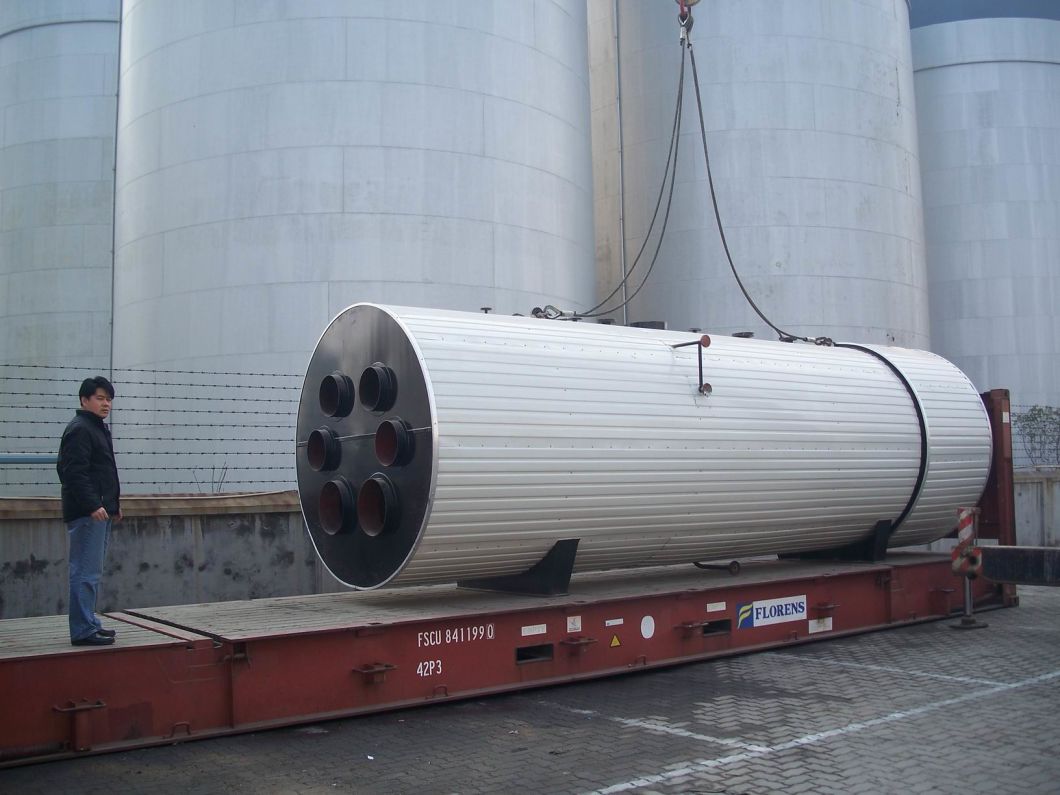 Model/Parameter/Item
DZL
2-0.7-AII
DZL
2-1.25-AII
DZL
4-1.25-AII
DZL
4-1.6-AII
DZL
6-1.25-AII
Rated capacity
t/h
2
2
4
4
6
Operation pressure
Mpa
0.7
1.25
1.25
1.6
1.25
Steam temperature
C
169.6
194
194
203
194
Water-inlet temperature
C
20
20
20
60
20
Heating efficiency
%
77.4
77.4
81
81
77.4
Area of stoker
m2
3.04
3.2
5.4
5.4
7.48
Steam valve diameter
mm
PN1.6
DN80
PN1.6
DN80
PN1.6
DN100
PN2.5
DN100
PN1.6
DN125
Water inflow valve
diameter
mm
PN1.6
DN40
PN1.6
DN40
PN1.6
DN50
PN2.5
DN50
PN1.6
DN50
Fuel
Coal available
II type bitumite,lcv:17700-21000KJ/kg
Consumption
kg/h
290
290
580
580
960
Dimension of biggest parts for shipment
(LxWxH)
m
5.82*2.1*3.22
5.82*2.1*3.22
6.5*2.66*3.52
6.5*2.66*3.52
7.1*3*3.65
Weight of biggest
parts for shipment
t
18
19
27
29
32
Overall dimension of
Assembled boiler
(LxWxH)
m
6.5*4.0*3.7
6.5*4.0*3.7
7.2*4.5*4.0
7.2*4.5*4.0
7.9*4.5*4.1
Water supply
Model
11/2GC-5*4
1 1/2GC-5*4
11/2GC-5*7
1 1/2GC-5*7
2GC-5*6
Motor power
kw
3
7.5
7.5
11
15
Blast
fan
Model
G6-41-13No
5.4A
G6-41-13No
5.4A
G6-41-13No
6.4A
G6-41-13No
6.4A
G6-41-13No
7.1A
Flow
m3/h
4358-2310
4358-2310
7358-3596
7358-3596
10354-5349
Pressure
Pa
994-1254
994-1254
1436-1181
1436-1181
2270-1697
Motor power
kw
3
3
5.5
5.5
7.5
ID fan
Model
Y6-41-13No
5.4C
Y6-41-13No
5.4C
Y6-41-13No
7.1C
Y6-41-13No
7.1C
Y6-41-13No
10C
Flow
m3/h
8901-4350
8901-4350
15219-8171
15219-8171
32144-16607
Pressure
Pa
2568-3240
2568-3240
2454-3283
2454-3283
2574-3444
Motor power
kw
11
11
22
22
37
Model/Parameter/Item
DZL1.4-
0.7-95/70-AII
DZL2.8-
0.7-95/70-AII
DZL4.2-
1.0-115/70-AII
Rated capacity
MW
1.4
2.8
4.2
Operation pressure
Mpa
0.7
0.7
1
Hot water temp.
C
95
95
115
Water-inlet temperature
C
70
70
70
Heating efficiency
%
76
76
78
Area of stoker
m2
3.04
5.14
7.4
Heating area
m2
12000
24000
36000
Water inlet & outlet
Diameter
mm
PN1.6
DN100
PN1.6
DN125
PN1.6
DN150
Fuel
Coal available
II type bitumite,lcv:17700-21000KJ/kg
Consumption
kg/h
290
580
960
Dimension of biggest parts for shipment
(LxWxH)
m
5.82*2.26*3.22
6.51*2.6*3.52
7.5*2.9*3.5
Weight of biggest
parts for shipment
t
19.1
26.5
31
Overall dimension of
Assembled boiler
(LxWxH)
m
6.5*2.55*4.53
7.5*4.0*5
7.9*4.5*4.4
Water
pump
Model
IS80-65-160
IS100-80-160
IS125-100-200B
Flow
m3/h
50
100
172
Lift
m
32
38
37
Motor power
kw
7.5
15
30
Blast
fan
Model
G6-41-13No
5.4A
G6-41-13No
6.4A
G6-41-13No
7.1A
Flow
m3/h
4358-2310
7358-3596
10354-5349
Pressure
Pa
994-1254
1436-1181
2270-1697
Motor power
kw
3
5.5
7.5
ID fan
Model
Y6-41-13No
5.4C
Y6-41-13No
7.1C
Y6-41-13No
10C
Flow
m3/h
8901-4350
15219-8171
32144-16607
Pressure
Pa
2568-3240
2454-3283
2574-3444
Motor power
kw
11
22
37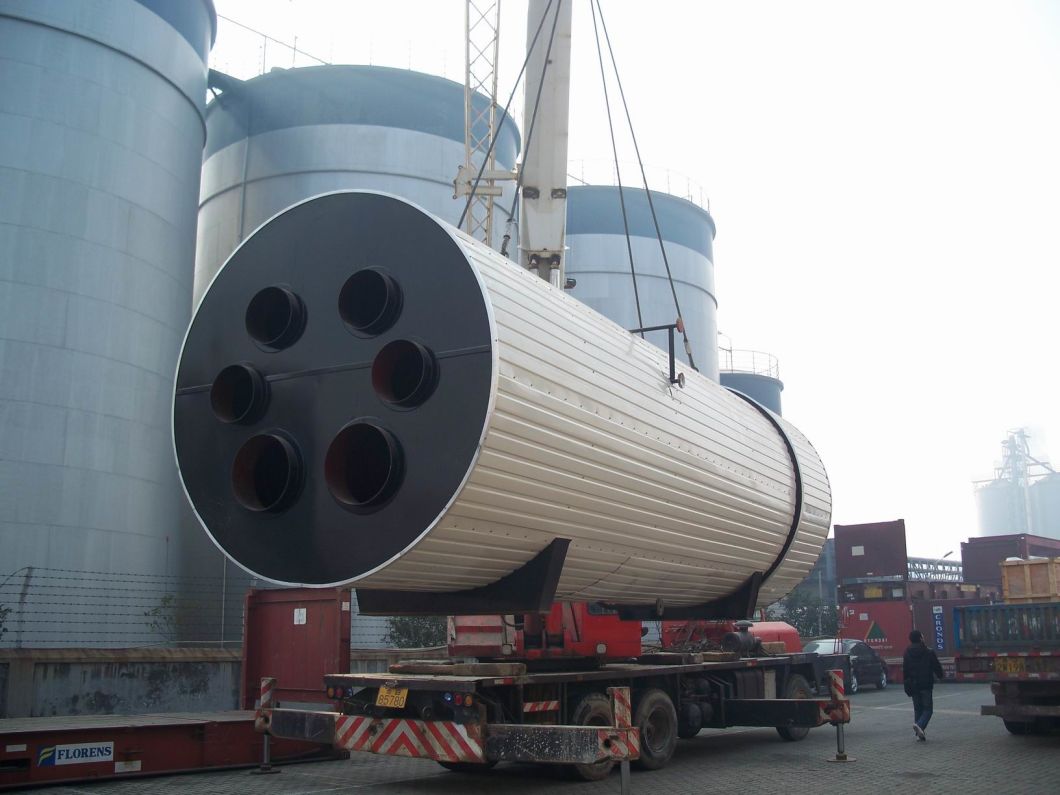 Biomass fired steam boiler description
1.The boiler shall adopt double drum,monolayer arrangement,compact structure,as well as large heating surfaces which are more 10% than those of same kinds of products,featuring the following advantages such as sufficient output,safe and reliable operation,short construction period,low installation cost ect.
2.The design of cyclone reburning chamber in furnace resulted in the decrease of dust contained in the flue gas.At the same time,incandescent carbon black particles shall burn further,enhancing the boiler thermal efficiency,decreasing gas blackness,as a result,the gas emission concentration shall meet the requirements of grade A environmental protection area.
3.The grate shall employ the technology patent of small roller structure,boundary grate and so on,improving the operation reliability of the boiler.
4.Since the adoption of technology patent for the sealed wind chamber and bilateral grate air register,and the application of machining cone seal structure to grate adjusting air eauipment,the sensitivity of the grate shall be improved.
Our Partner
Recent years, our product have been successfully exported to Europe, Africa,Latin America,South East Asia and middle east countries and areas.
Company information
Qingdao Xingfu Boiler Thermopower Devices Co., Ltd, established in 1981, is the parent company of Qingdao Honest Trading Co., ltd .It is specialized in manufacturing pyrolysis plant, pressure vessels and thermal power equipment, authorized by the General Administration of Quality Supervision,Inspection and Quarantine of the People's Republic of China.
The company has more than 15 years experience in manufacturing pyrolisis plant,pressure vessels and boiler auxiliaries.It has its own technology team,and developed and invented lots of new products and new technology applying to reality.The company invents semi continuous waste tyre pyrolysis plant ,batch type waste tyre pyrolysis plant, full continuous plastic pyrolysis plant,oil distillation equipment and other pressure vessels.Recent years, our products have been successfully exported to Europe, Africa,Latin America,South East Asia and middle east countries and areas
Packaging & Shipping
Packaging details
1*40FR and 1*40HQ for 10 tons
2*40 HQ for 5 tons
Weight: about 30tons
All goods are packed with export standard package to make sure
no damage during transportation.
Detail details
about 30 days after receiving deposit.