Factory Price Economic Home Solar Energy System with Installation Service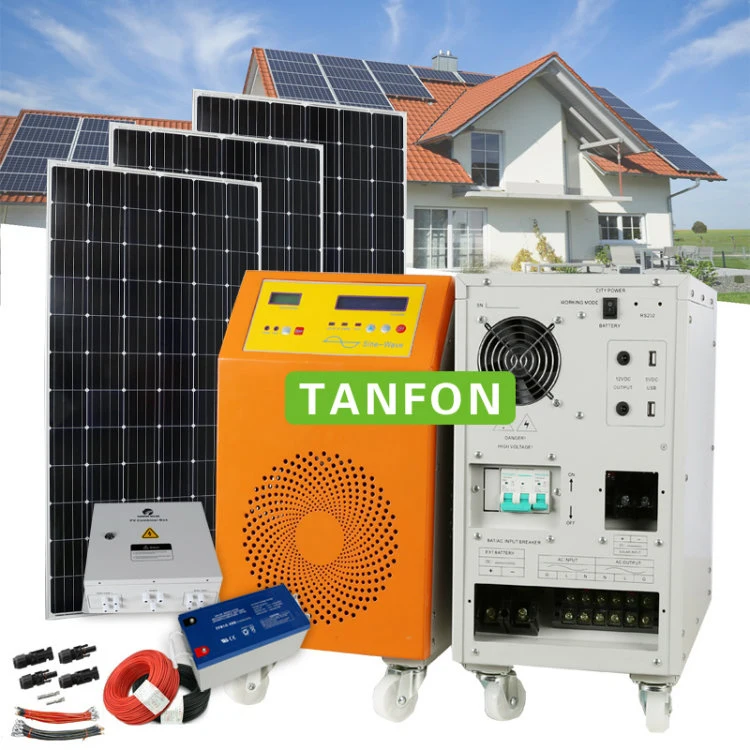 Foshan Tanfon Energy Technology Co.,LTD
Factory manufacturer of all kinds of inverter, solar energy system, solar street light system, wind turbine system, solar wind hybrid power system.
Off grid home solar energy system have power design 300W to 30KW, hottest sale system have 3kw, 5kw and 10kw.
(5kw home solar energy system details for reference, need more power design system and want to get more details, please send inquiry to us)

5kw Home Solar charge system
Load reference

5000W solar home system

Load name

Load's watt

Qty

Total watt

lights

11W

8

88W

Fan

80W

2

160W

computer

150W

2

300W

printer

250W

1

250W

Fax machine

150W

1

150W

refrigerator

120W

1

120W

Washing machine

300W

1

300W

Microwave

1000W

1

1000W

Electric cooker

300W

1

300W

Air conditioner(2HP)

1500W

1

1500W

Satellite TV receiver/VCD

25W

1

25W

Color TV

100W

2

200W

Water pump

200W

1

200W

Total

4513W

Remark: Refrigerator,air conditioner &water pump is inductive load, start working power is 3-6 times more than normal power, in the process of use, turn on the inductive load first

Solar PV panel characteristics
Module Type

FS250-24v

Maximum power at STC

(

Pmax

)

25

0W

Optimum operating voltage

(

Vmp

)

30

V

Optimum operating current

(

Imp

)

8.33

A

Open-circuit voltage

(

Voc

)

36

V

Short-circuit current

(

Isc

)

9.68

A

Short-circuit current temperature coefficient

(

0.065±0.015

)

%/

ºC

Open-circuit voltage temperature coefficient

-

(

80±10

)

mV/

ºC

Peak power temperature coefficient

-

(

0.5±0.05

)

%/

ºC

NOCT (Air 20

ºC

; Sun 0.8kW/m wind 1m/s)

47±2

ºC

Operating temperature

-40

ºC

to 85

ºC

Maximum system voltage

600V DC

Power tolerance

±3%

STC

lrradiance 1000W/m²,

Module temperature 25

ºC,

AM=1.5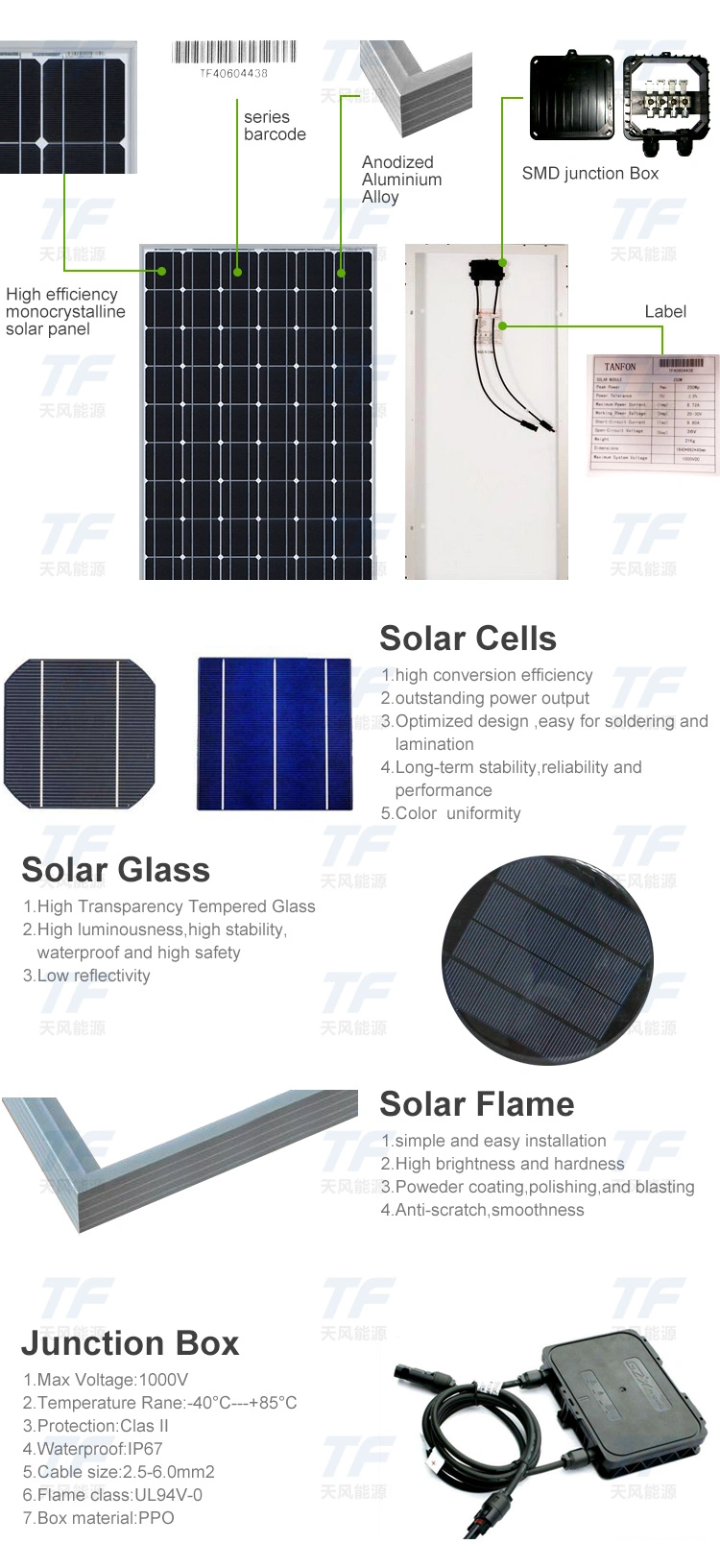 Features
1. Nominal 24V DC for standard output.
2. High efficiency.
3. Outstanding low-light performance.
4. High transmission tempered glass.
5. Rugged design to withstands high wind pressure and snow load, easy installation.
6. Aesthetic appearance.
7. Design to meet unique demand of customer.
8. 25 year module output warranty.
Hybrid solar inverter (power design 300W to 10KW)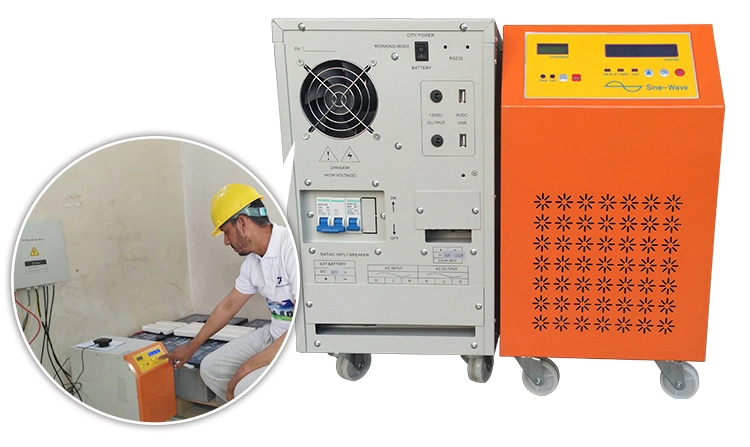 Specification
M

odel

SC5000

Rated power(W)

5000

Rated DC voltage(V)

48V or 96V

Line input

Input voltage(V)

145-280V,

90-127V

Charge current(A)

10-30A

Inverter o

ut

put

Output voltage(V)

110V or 120V or

2

2

0V or 230V or 240V

AC±5%,

&5V,

12V DC port

Output frequency

50Hz/60Hz±1%

Wave form

Pure Sine Wave, THD<4%(Full Load)

Solar input

Maximum voltage(V)

88

v or 176v

Rated power(Wp)

5000

Solar Controll

er

Charge current(A)

60

MPPT range(V)

48V(40-68), 96V(80-136)

Charging efficiency

90%-95%, Peak on 97%

Other

Over charge

protective voltage of battery(V)

48V(57.2), 96V(114)

Over charge recover-voltage of battery(V)

48V(54.8), 96V(109.6)

Voltage drop between solar




module and battery(V)

≤0.5

V

Voltage drop between loads




and battery(V)

≤0.2

5V

Start speed of cooling fan

Have

Environment Humidity

0-90% Maximum,non-condensable

Protective Functions

Protection against anti-charge at night;




Battery over charge;over discharge protection; Joint-reversed of solar modules

Control method

MPPT

Size :D*W*H(mm)

465*220*480

N.W&G.W(kg)

43/50
Feature:
1.Combine with solar power controller and inverter hybrid function.
2. Completely controlled by CPU.output have 5V and 12V USB,can take LED light and mobile phone
3. Inverter use copper transformer, pure sine wave output.
4. LCD displays, clearly to know the status.
5. Have bypass function and AC charger (UPS function)
6. Perfect protection. Protect against anti-charge at night, battery over charger/over discharge, output short-circuit, against overload, against over-voltage, over-current protection ,etc.
7. City grid power and solar power complementary. When there are not sunshine and battery power used off ,inverter will charge from city power automatically to take the loads and charge battery ,keep the solar power system working 24 hours ,have switch "city power charge" and "solar power charge",you can change any time
PV Array Combiner(model design: H4T, H6T, H8T, H10T, H12T)

Features:
1. Use to connect to multiple PV array strings inputs, Simplify wiring between PV array and controller, protections to controller.
2. It is equipped with the solar DC lightning protection devices. Both the positive pole and negative pole have the dual lightning protection function.
3. It adopts the professional DC breaker, capable to withstand voltage not lower than DC1000V. So it is safe and reliable.
4. The protection class is IP65, which meets the outdoor installation and usage requirements.
5. Easy and convenient installation and maintenance, long-term service life.
6. Reliable thunderstorm& surge protection

Gel Battery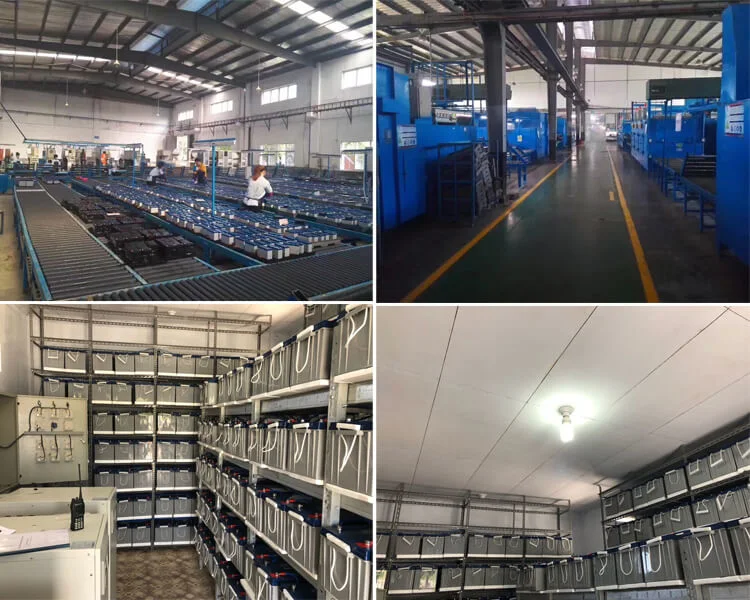 Gel battery Features
1. A high storage capacity
2. Charge and discharge without mist.
3. Good charge acceptance, can be high current charge (0.8C-1C)
4. Can be high-current discharge; current will not damage if 30C discharge current in 8 seconds.
5. Can be super-deep discharge and repeated to make discharge, battery will not undermine.
6. Well adapt to the temperature, can be used within -50~60ºC.
7. Small self-discharge; completely maintenance-free; the battery can still be used for normal if stored at room temperature after full charge.
8. Long design service life, double the life of lead acid batteries.
9. Environmental protection; It is easy to recycle and no pollution.
10. Astigmatic and well adjusts to poor working conditions.
11. Without space limitation and allowed to be operated in any orientation.
12. Simple operation
Maintenance free operation, and with the good coherence of internal resistance, capacity and floating charge, there is no equalizing charge required.
Panel Rack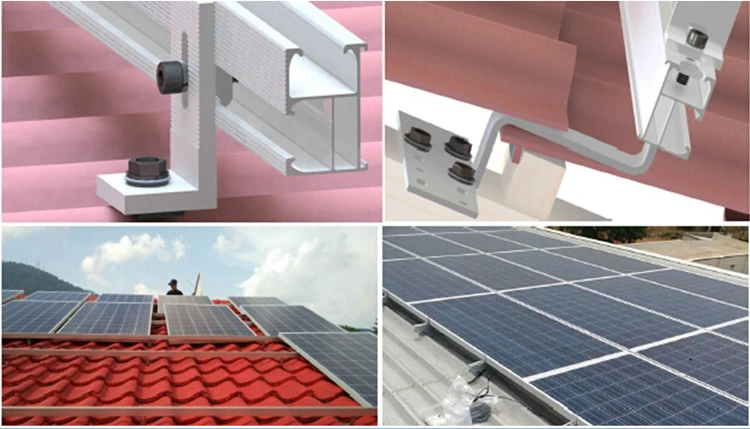 Features:
Ground mounting, Slope Rooftop or Flat rooftop mounting
wind load: 55m/s,snow load:1.5kn/m2
structure: Anodized Aluminum +stainless steel, Angle adjustable(other type of rack can be customized as per client's requirement )
FAQ
Q: What

5kw home solar system

can carry?
A: TV, COOKING matchine, air con, fan, computer, light
Q: What is the package?
A: solar panel and battery pallet packing
PV combiner and hybrid inverter wooden box
Bracket and cable carton box packing
Q: What is 5000w system installation angle?
A:Your country latitude and longitude +10 degrees
Q: How many days need to install?
A:we supply install video and drawing

Engineer can be on-site
installation service
A
s our experience ,1-2 days can finihsed install.
Q: How many m2 for install this

solar energy system

?
A: 35m2
Q: what is Produce time ?
Normal 7-12days (if very urgent ,please talk with us )
Q:How much shipment cost need ?
A:base on the sea port ,normal $350-$900,please send inquiry to us ,we will confirm the shipment cost for you
Q: What is the lifetime of the solar power system?
A: Solar panel's lifetime are 25 years, charger controllers 5~ 7 years, inverters 5~7 years, batteries 6~8 years.
Q: What tha 5kw

solar system warranty and service

?
A: Solar panel 10 years warranty,ship the new panel for service;
Battery 2 years warranty ,ship the new battery for service ;
Inverter 2 years warranty,ship the free PCB board for service ;
We accept OEM and small trial orders, contacting with us now for more information. All inquiries will be replied with in 24 hours.
Contact us
Name: Lily Luo
Phone: +86 13078123208