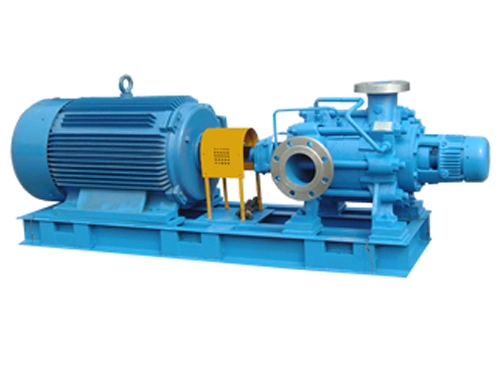 Application: Boiler water feeding and other similar situations
Performance Range
Middle Pressure: Q=28~185m3/h, H=276~666m, Temperature: T=105ºC
Hypo-High pressure: Q=36~180m3/h, H=409~1056m, Temperature: T=160ºC
Q=52~240m3/h, H=390~1150m, Temperature: T=160ºC
High pressure: Q=120~500m3/h, H=1080~1870m, Temperature: T=160ºC
Speed: 2980/2950rpm
Power: 75 up to 2500Kw
Standard Material:
Suction, discharge and middle Casing: Carbon steel, Chrome steel
Impeller and guide vane: Carbon steel, Chrome steel
Shaft: Chrome steel, Chrome-molybdenum steel
Shaft seal: Carbon-fiber packing with water cooled, mechanical seal
Description
Steam pump. DG type pumps is single shell, multistage centrifugal pump. Both suction and discharge direction are upside, DG pump is supported on foot. Others are centerline supported. Suction section, middle section and discharge section are connected by long studs.
Middle Pressure pumps roll Bearing lubricated thin oil with circulating coolant water.
Hypo-High pressure pumps slip bearing lubricated by thin oil with circulating coolant water, High pressure pumps slip bearing lubricated by force-feed oil